When Wi-Fi is down, work stops. That's why the world's biggest brands and most important events trust Ekahau for their mission-critical wireless networks.  Ekahau WiFi software helps users not only design, but also validate, optimize and troubleshoot for complete Wi-Fi lifecycle management.
Fast & Accurate
Precise Wi-Fi diagnostics paired with mobile-optimized apps deliver significantly faster site surveys, faster spectrum analysis, and more accurate and reliable data.
Easy to Use
Robust, professional gear that anyone can use, developed by Wi-Fi enthusiasts who consistently innovate and redefine industry-standard.
Peace of Mind
Well-designed and optimized networks reduce business-stopping downtime, giving you assurance that your Wi-Fi is always high-performing.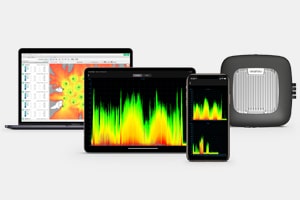 Ekahau Connect
Ekahau Connect is a suite of Wi-Fi tools that enable you and your team to design, optimize and troubleshoot any Wi-Fi network faster and easier than ever before.  Please note that this suite was made end of life in 2020.  Ekahau Pro and Sidekick need to be purchased individually.  All information is relevant it just requires a different purchase.  Call us for advice.
Design reliable, high capacity Wi-Fi networks.
Validate a new Wi-Fi deployment or optimize an existing Wi-Fi network
Analyze and troubleshoot Wi-Fi issues in real-time
See a two-page overview that provides a step-by-step look at how Ekahau helps users not only design, but also validate, optimize and troubleshoot for complete Wi-Fi lifecycle management.
Ekahau Pro
A Professional Tool for Wireless Professionals
From systems integrators to IT administrators, Ekahau Pro is used to design, optimize, and maintain Wi-Fi networks of any size. It has an ultra-fast, easy to use interface that works on laptops and tablets running macOS or Windows.
Ekahau Pro ensures high performance and includes capacity, planning and analysis. It supports all Wi-Fi access points, thousands of antennas and legacy and current Wi-Fi standards, including 802.11ax (Wi-Fi 6). If a Wi-Fi network is not yet in place, Ekahau Pro will automatically determine how many access points are needed and where they should be placed. Ekahau Pro will also recommend network configuration for optimal performance. For Wi-Fi networks already in place, Ekahau Pro provides quick and easy site surveys, coverage and capacity analysis, network optimization, and troubleshooting.
Ekahau Sidekick
Ekahau Sidekick is built to work with Ekahau Pro™ and Ekahau Survey™ for iPhone & iPad for designing, analyzing, optimizing and troubleshooting Wi-Fi networks.
Sidekick is a professional Wi-Fi device that provides highly accurate and standardized Wi-Fi measurements by using two Wi-Fi radios and a spectrum analyzer to achieve expert-level Wi-Fi site surveys and troubleshooting across your network. All-in-One Ekahau Sidekick is the first of its kind purpose-built site survey and troubleshooting device for Wi-Fi networks. The onboard CPU and battery offloads much of the heavy lifting from the survey device, saving precious battery life and improving efficiency. The built-in battery lasts up to 8 hours, which means fewer interruptions so projects can be completed up to 30% faster. Ekahau Sidekick is lightweight and convenient to carry using the
included shoulder strap — minimizing fatigue and maximizing productivity.
FIND OUT HOW EKAHAU WILL BENEFIT YOUR BUSINESS
Contact AJP Solutions, today, to find out how we can improve your business' network solutions. AJP Solutions is dedicated to providing a quick response to any enquiries we receive.