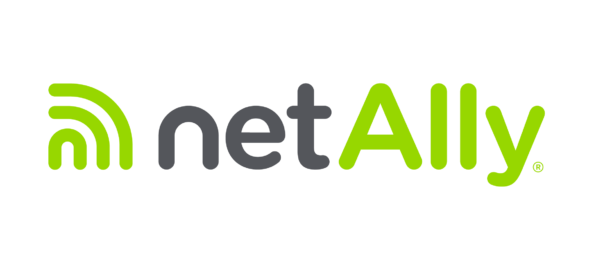 NetAlly has announced a new identity as it completes its separation from NETSCOUT and embarks on the next phase of evolution under private funding from StoneCalibre.  Taking tools such as LinkRunner G2 AirCheck G2 forward.
Wired Solutions
NetAlly handheld wired tools help frontline technicians
validate network connectivity in less than 10 seconds.
Their solutions streamline productivity with simple interfaces for
technicians of varying skill level.
WiFi Solutions
NetAlly delivers Enterprise level wireless network tools for designing,
deploying and optimizing 802.11a/b/g/n/ac/ax wireless LANs for
maximized performance, security and compliance.
From planning and deployment to ongoing network troubleshooting,
the AirMagnet network tools span the entire WLAN lifecycle.
LinkRunner G2 Smart Network Tester
The LinkRunner G2 simplifies network validation and configuration of copper and fiber Ethernet networks, streamlining workflows by combining essential functions of installation and triage in a single, ruggedized unit. Accelerate deployments, speed problem identification, and improve the efficiency and effectiveness of network operations with this next-generation Android-based tester. The LinkRunner G2 features an intuitive design that runs Android-based apps with smartphone-like features.
Key Features
• Discover nearest switch name and port information via CDP/LLDP/EDP and
verify link speed/duplex and connectivity to TCP/IP network with AutoTest
• Validate up to 90W Power over Ethernet (PoE) PSE in one AutoTest - useful during IoT, VoIP and Wi-Fi deployment
• Install and run preferred Android-based apps for speed tests, device configuration, and workflow management with smartphone-like features
• Automate reporting and enable collaboration with test result upload and
management via Link-Live Cloud Service
Download the NetAlly LinkRunner G2 datasheet
_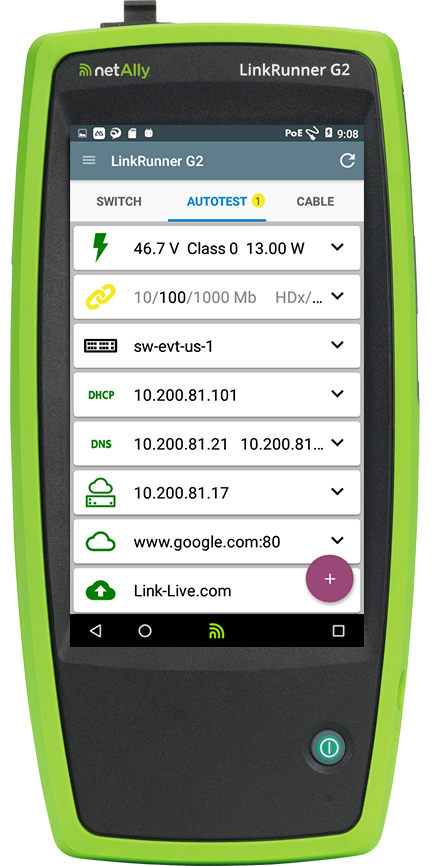 AirCheck G2 Wireless Tester
The AirCheck G2 Wireless Tester's intuitive user interface provides actionable intelligence, simplifying wireless troubleshooting and validation. AirCheck G2 provides
network professionals and technicians of any skill level with complete and accurate
information to resolve connectivity and performance problems quickly, speed up closure of trouble tickets, and ensure your Wi-Fi network meets end users' needs.
Key Features
• AirCheck G2 offers a one-button AutoTest function that quickly provides a pass/fail indication of Wi-Fi network quality and identifies common problems
• Test the most common Wi-Fi standards (802.11 a/b/g/n/ac) with a rugged, handheld, purpose-built wireless tester
• See all networks and devices in your location immediately upon power up
• View test results, including network availability, connectivity, utilization, throughput, security settings, possible rogues, and interferers
• Automate reporting and enable collaboration with result upload and management
via Link-Live Cloud Service
Performance Testing
Quickly and easily test the throughput on your network by conducting iPerf tests from an AirCheck G2 to an iPerf server.  This quick and easy test allows a user to validate the throughput on their network at a given location.  The tester uses the industry standard performance measuring tool iPerf. Tests can be conducted with a customer's iPerf server they install themselves on their own or utilizing our new Test Accessory.
Captive Portal Support:
Customers asked and NetAlly listened, users can now conduct all their AirCheck testing even on public facing networks that feature a captive portal.
Captive portals are common on many networks that allow connections to the general public such as in healthcare, hospitality, or education, they force a user to click through Terms and Conditions or type basic information into a form before access is given.
Interferer Detection and Classification:
Sometimes the problem isn't the Wi-Fi, it's the other devices in your area. Get a view into what other technologies are in your airspace by detecting interferers such as Microwave ovens or wireless cameras. The AirCheck G2 can use its wireless radio to detect interfering technologies in the environment and attempt to identify them.
Save a Packet Capture:
Need a record of what was seen in the environment? Now when saving a session file, the user also has the option to save that information as a PCAP.
Take the Virtual Tour of the NetAlly AirCheck G2 Wireless Tester
Download the NetAlly AirCheck G2 datasheet
_
Now with AirMapper™ Site Survey App
AirCheck G2 users can now quickly and easily gather location-based Wi-Fi measurements and create visual heat maps of key performance metrics in the Link-Live Cloud Service or AirMagnet Survey PRO.
Simple to use, the AirMapper app is ideal for quick site surveys of new deployments, change validation, and performance verification.
LinkLive and AirMapper app is free of charge.  Call us to find out about "Get one on us".  Free Test Accessory Pocket iPerf Server worth £400 with purchase of AirCheck G2.
LinkSprinter Network Tester
Test and Validate Network Connectivity in less than 10 seconds
Diagnose and test Power over Ethernet (PoE), Link to the switch, DHCP, Gateway, and Internet connection
Get VLAN, switch name, and port information via CDP/LLDP/EDP for your managed switches
Expert network troubleshooting techniques delivered to color graded LEDs
Automated reporting to Link-Live Cloud Service
Get detailed test results sent directly to your email
Proxy support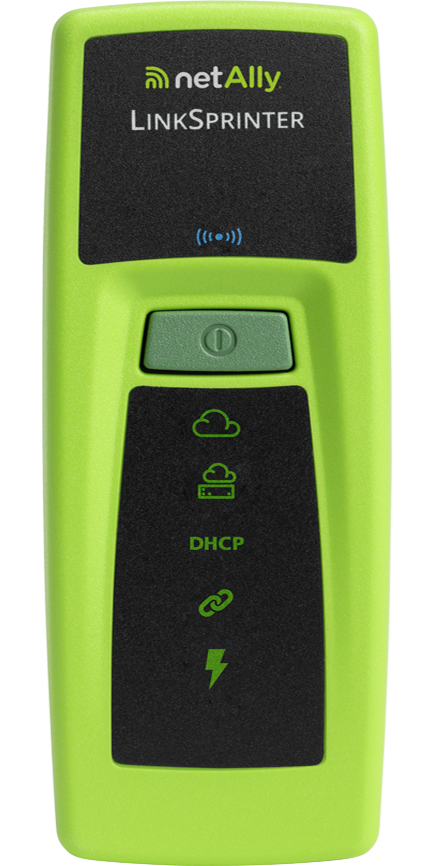 FIND OUT HOW NETALLY WILL BENEFIT YOUR BUSINESS
Contact AJP Solutions, today, to find out how we can improve your business' network solutions. AJP Solutions is dedicated to providing a quick response to any enquiries we receive.