NETSCOUT handheld tools help frontline technicians validate and analyse network connectivity. Their solutions streamline productivity with simple interfaces for technicians of varying skill level. Designed for IT engineers who install, solve, validate and manage wired and wireless networks.

LinkRunner G2 Smart Network Tester
LinkRunner G2 is a simple, comprehensive network validation and configuration platform that empowers network professionals responsible for device deployment and troubleshooting. LinkRunner streamlines workflows by combining the essential aspects of installation and triage in a single, ruggedized unit.
Features
802.1X Authentication
Android Based Operating System
Automated Results Documentation
Cable Validation
Discover Nearest Switch and VLAN over Copper and Fiber
Functional Diagram
IP Addressing
Packet Reflector
Reachability Verification
TruePower™ PoE Testing
Wi-Fi and Bluetooth Ready
Take a Virtual Tour of the LinkRunner G2 Smart Network Tester
Download the NETSCOUT LinkRunner G2 datasheet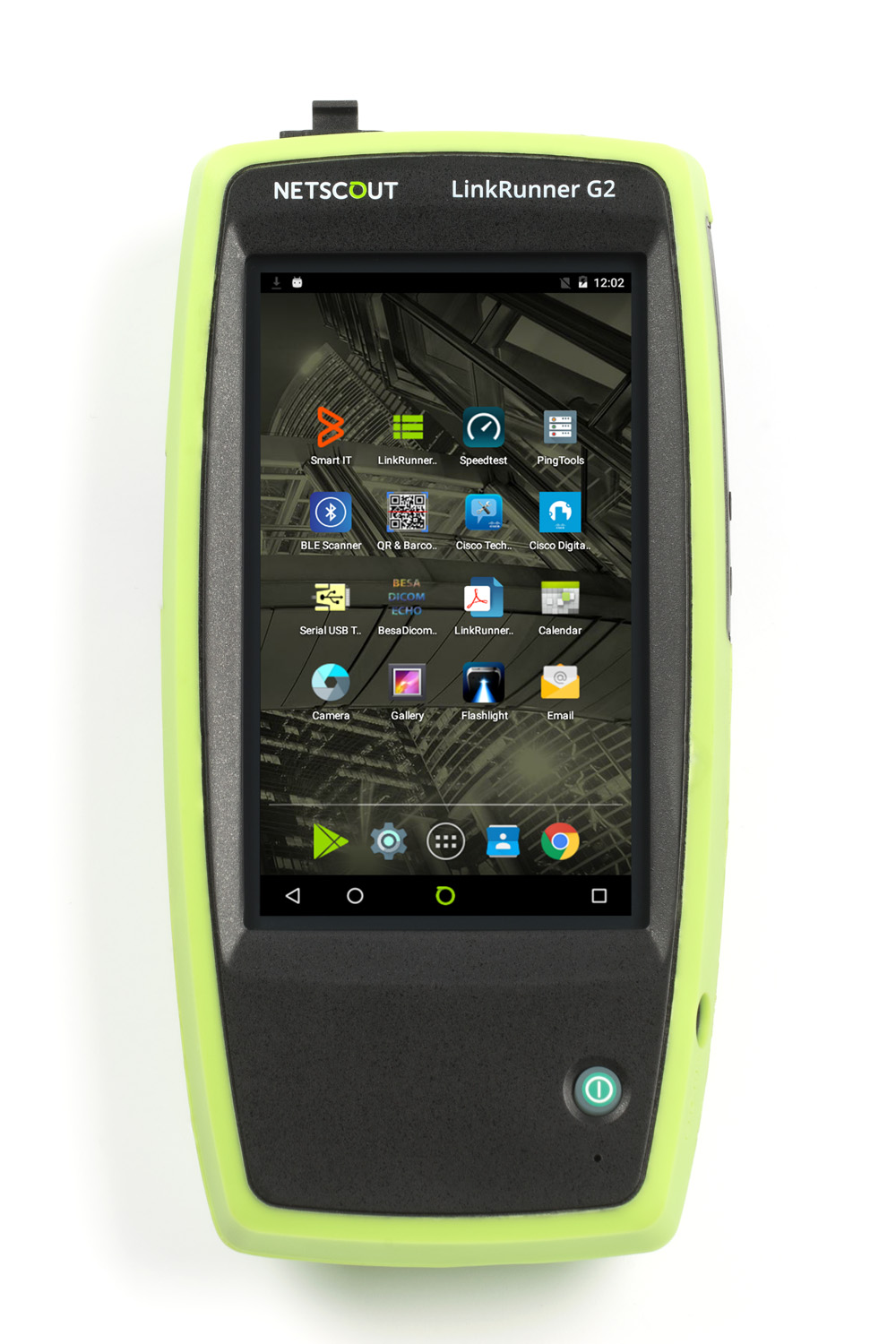 AirCheck G2 Wireless Tester
The AirCheck G2 provides fast, simple, and accurate isolation and troubleshooting, thereby reducing the time to resolve wireless issues. AirCheck G2 simplifies wireless troubleshooting by providing:
A rugged, handheld purpose-built wireless tester supporting the latest Wi-Fi technologies (802.11a/b/g/n/ac)
A one-button AutoTest, which quickly provides a pass/fail indication of the wireless environment and identifies common problems
An instant view of test results including network availability, connectivity, utilization, security settings, rogue hunting, and interference detection
Connectivity to a centralized test results management platform, Link-Live, that facilitates greater job visibility, project control and fleet management for larger distributed environments
New and Updated features
Performance Testing:
Quickly and easily test the throughput on your network by conducting iPerf tests from an AirCheck G2 to an iPerf server.  This quick and easy test allows a user to validate the throughput on their network at a given location.  The tester uses the industry standard performance measuring tool iPerf. Tests can be conducted with a customer's iPerf server they install themselves on their own or utilizing our new Test Accessory.
Captive Portal Support:
Customers asked and NETSCOUT listened, users can now conduct all their AirCheck testing even on public facing networks that feature a captive portal.
Captive portals are common on many networks that allow connections to the general public such as in healthcare, hospitality, or education, they force a user to click through Terms and Conditions or type basic information into a form before access is given.
Authorization Classes:
One of our popular AirCheck G1 features is now available on the AirCheck G2. Users can now mark APs as Authorized, Unauthorized, Neighboring, or Flagged. APs can be sorted by authorization class, and the updated AutoTest can now report on any APs that have been marked as Rogue or Flagged that are heard during the test scan.
Interferer Detection and Classification:
Sometimes the problem isn't the Wi-Fi, it's the other devices in your area. Get a view into what other technologies are in your airspace by detecting interferers such as Microwave ovens or wireless cameras. The AirCheck G2 can use its wireless radio to detect interfering technologies in the environment and attempt to identify them.
Channel Overlap:
A common request we heard was the ability to visualize the channels and how they overlap with each other. This view is now available at the tap of a button from the Channels screen. Supported Rates vs. Basic Rates.
Another common request was to separate the rates on an AP into Supported vs. Basic rates, so that the user could see explicitly how the AP was configured. We've made this change to the AP Details screen, so both pieces of information are now available.
Save a Packet Capture:
Need a record of what was seen in the environment? Now when saving a session file, the user also has the option to save that information as a PCAP.
Take the Virtual Tour of the NETSCOUT AirCheck G2 Wireless Tester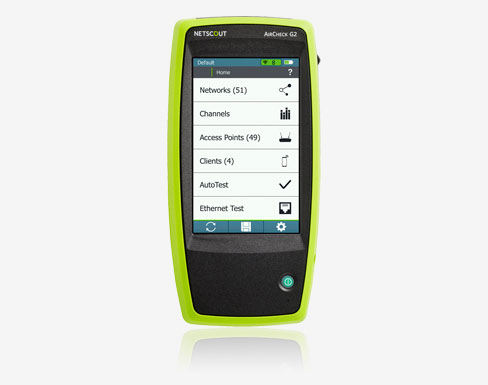 OneTouch AT Network Assistant
The NEW G2 OneTouch AT network assistant is an automated All-in-one network tester for Ethernet and Wi-Fi troubleshooting and performance validation
All-in-one network tester: combined copper, fiber optic and Wi-Fi network troubleshooting resolves a broad range of problems with one testing tool
Versatile: dual 10/100/1G copper/fiber Ethernet test ports and an 802.11a/b/g/n/ac Wi-Fi radio for use in multiple environments
Fast: one-button automated testing with pass/fail analysis speeds identification of the most common problems in about a minute
Easy: standardized network troubleshooting and performance validation empowers technicians of various skill levels to solve more problems with confidence
Complete: a comprehensive client view of performance isolates the problem root cause starting from the physical layer, through the network and to server-hosted applications
Cloud: automated, cloud-based results trending and performance analytics to troubleshoot intermittent client problems from anywhere using a web-connected device with a browser
Discover: automated wired and Wi-Fi discovery and analysis provides visibility into connected devices, key device properties, device interconnections and problems
Performance: end-to-end L2/L3 wired and Wi-Fi path performance measurement to a peer or a reflector to validate and document link readiness and SLA compliance
VoIP: inline VoIP call monitoring and comprehensive logging simplifies troubleshooting of desktop VoIP problems in real-time without taps or switch mirror ports
Capture: wired, Wi-Fi, VoIP and AutoTest packet capture streamlines collaboration and escalation of the most complex issues
Versiv™ test platform: expand capabilities by adding new modules as testing needs evolve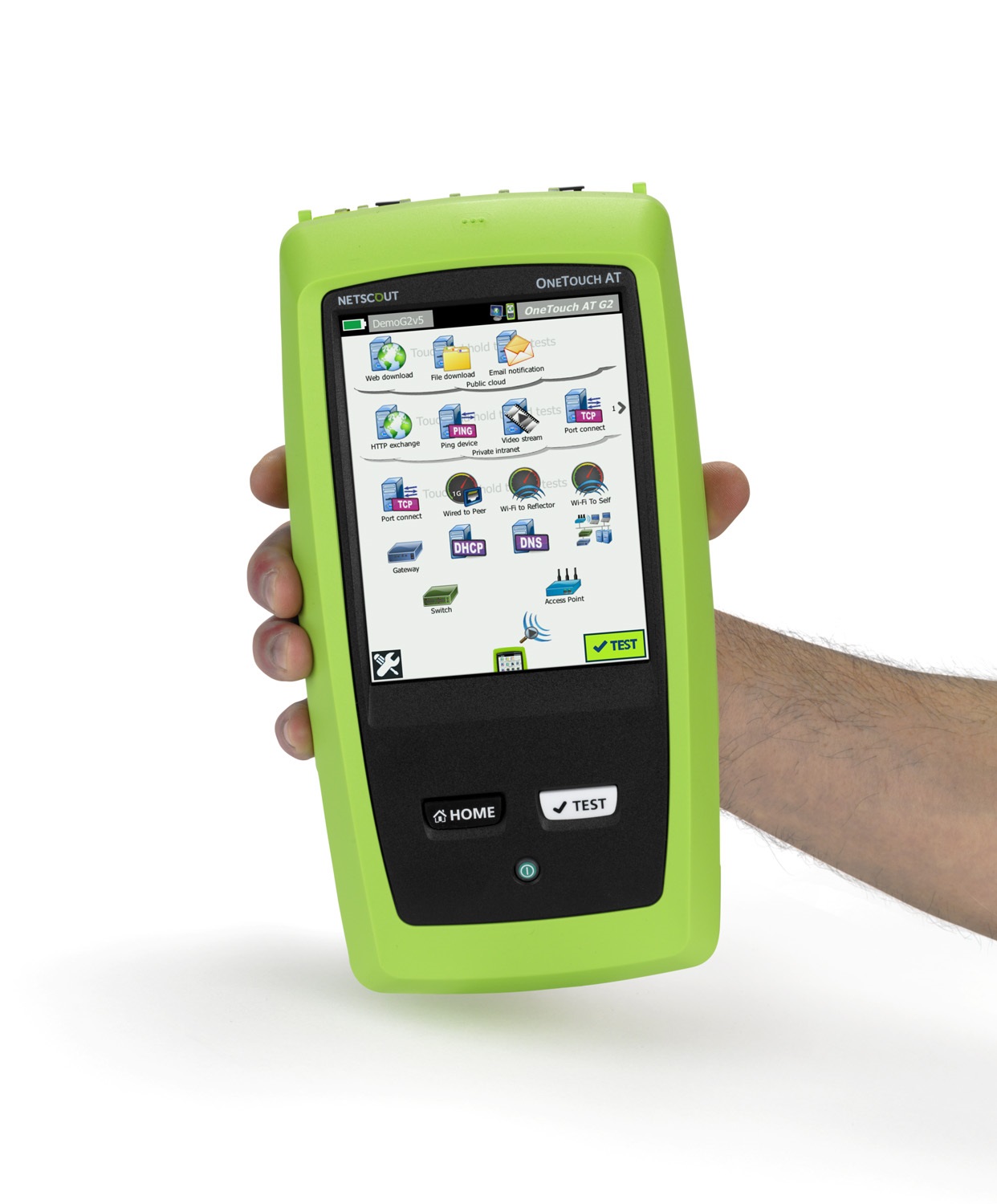 OneTouch AT 10G Network Assistant
One button validation of network and datacenter performance at 10 Gigabit rates
10 Gigabit: built-in 100/1G/10G copper and 1G/10G fiber optic test ports for network troubleshooting and performance measurement
All-in-one: a handheld network tester combining infrastructure, network service and end-to-end path performance measurement in one tool
Accurate: create and save site-specific network test profiles that emulate how client devices experience the network, including local, intranet and cloud-based services
Consistent: everyone on the team uses the same preconfigured network test profiles to encourage standardization and best practices
Fast: all network tests within a profile are run and graded automatically with the touch of a button, enabling identification of the most common problems in about a minute
Pre-deployment: measure end-to-end path performance prior to the deployment of new services or network infrastructure to assess network readiness
Post-deployment: measure end-to-end path performance to validate the performance of newly installed network infrastructure and critical network links within the LAN or data center
Independent: verify independently that service providers are meeting agreed upon service levels (SLAs) and maintaining QoS end-to-end
Trends: see how network performance varies over time by uploading and viewing results in the cloud using the companion OneTouch AT Cloud Service.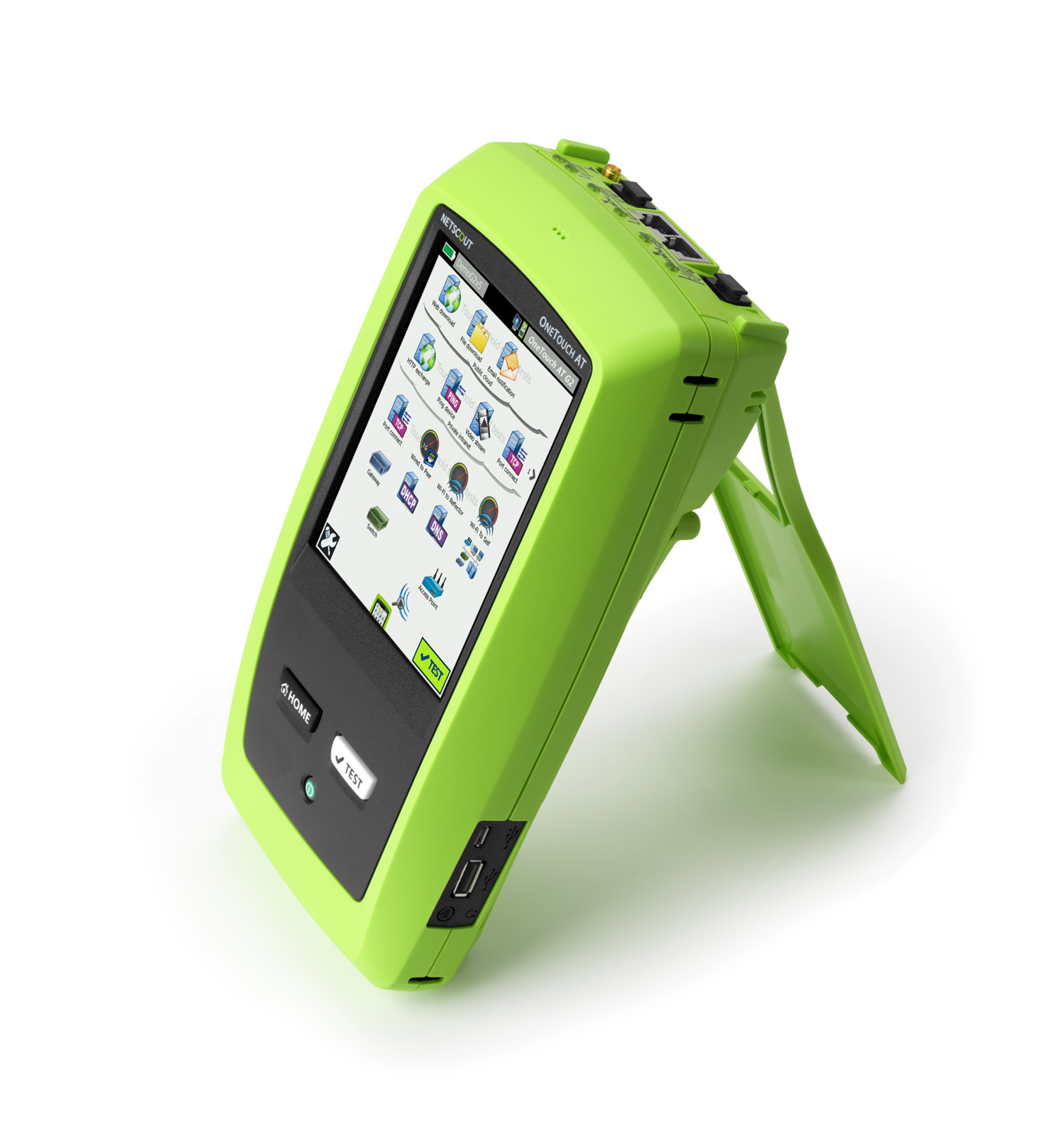 LinkSprinter Network Tester
Test and Validate Network Connectivity in less than 10 seconds
Diagnose and test Power over Ethernet (PoE), Link to the switch, DHCP, Gateway, and Internet connection
Get VLAN, switch name, and port information via CDP/LLDP/EDP for your managed switches
Expert network troubleshooting techniques delivered to color graded LEDs
Automated reporting to Link-Live Cloud Service
Get detailed test results sent directly to your email
Proxy support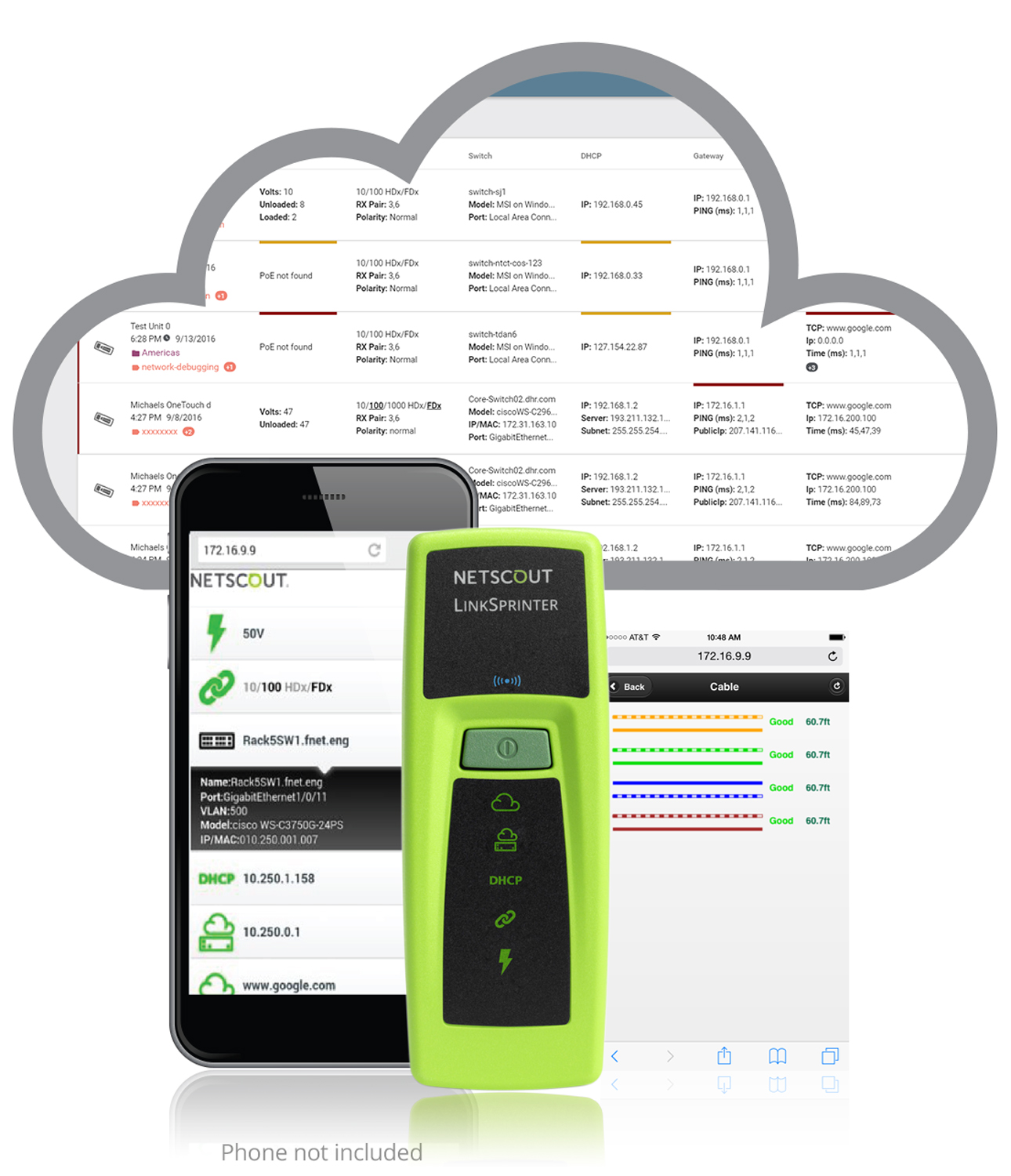 FIND OUT HOW NETSCOUT WILL BENEFIT YOUR BUSINESS
Contact AJP Solutions, today, to find out how we can improve your business' network solutions. AJP Solutions is dedicated to providing a quick response to any enquiries we receive.