As a global leader in IT security, Trend Micro develops innovative security solutions that make the world safe for businesses and consumers to exchange digital information. With over 25 years of security expertise, they are recognized as the market leader in server security, cloud security, and small business content security. Protecting over 100 million customers worldwide they are the No.1 at blocking threats.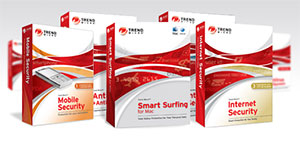 Worry-Free™ Business Security
Concentrate on your business, while Trend Micro protect it
More small businesses worldwide trust Trend Micro Worry-Free™ Business Security than any other security vendor to protect their livelihoods. Protect your devices and data by installing our software on your server, or let us take care of that for you by hosting it in our own in-house data centre.
Complete user protection for all your employees
Protects email, web, file sharing, and more
Filters URLs by blocking access to inappropriate websites, increasing employee productivity
Prevents data loss via email messages and USB drives
Blocks spam and safeguards against phishing as well as social engineering attacks
Protects Windows, Mac, and mobile devices
Easy to use and small foot print solution
Installs easily and is simple to use
Designed specifically for small businesses and requires no IT expertise
Provides centralized visibility and control
Provides protection with limited impact on performance
Stops threats in the cloud before they can reach your network and devices
Boasts cloud-based protection through Trend Micro Smart Protection Network
Proactively stops threats before they can reach the business, limiting the impact on your systems
Flexible deployment options
Features on-premises or hosted/cloud-based options
Options include: With or without email protection
FIND OUT HOW TREND MICRO WILL BENEFIT YOUR BUSINESS
Contact AJP Solutions, today, to find out how we can improve your business' network solutions. AJP Solutions is dedicated to providing a quick response to any enquiries we receive.