250+ million endpoints. 500,000+ companies worldwide. One security software company.
For over 30 years, Trend Micro's unwavering vision has been to make the world safe for exchanging digital information. Security is the entire focus, and it shows. This single-minded passion has inspired innovations that keep up with the bad guys despite a changing IT landscape, riskier user behaviour, and constantly evolving threats.
The depth of their experience remains unmatched. From the endpoint to the network to the cloud, they have got you covered with a connected threat defence recognised by analysts, customers, and industry gurus of all kinds.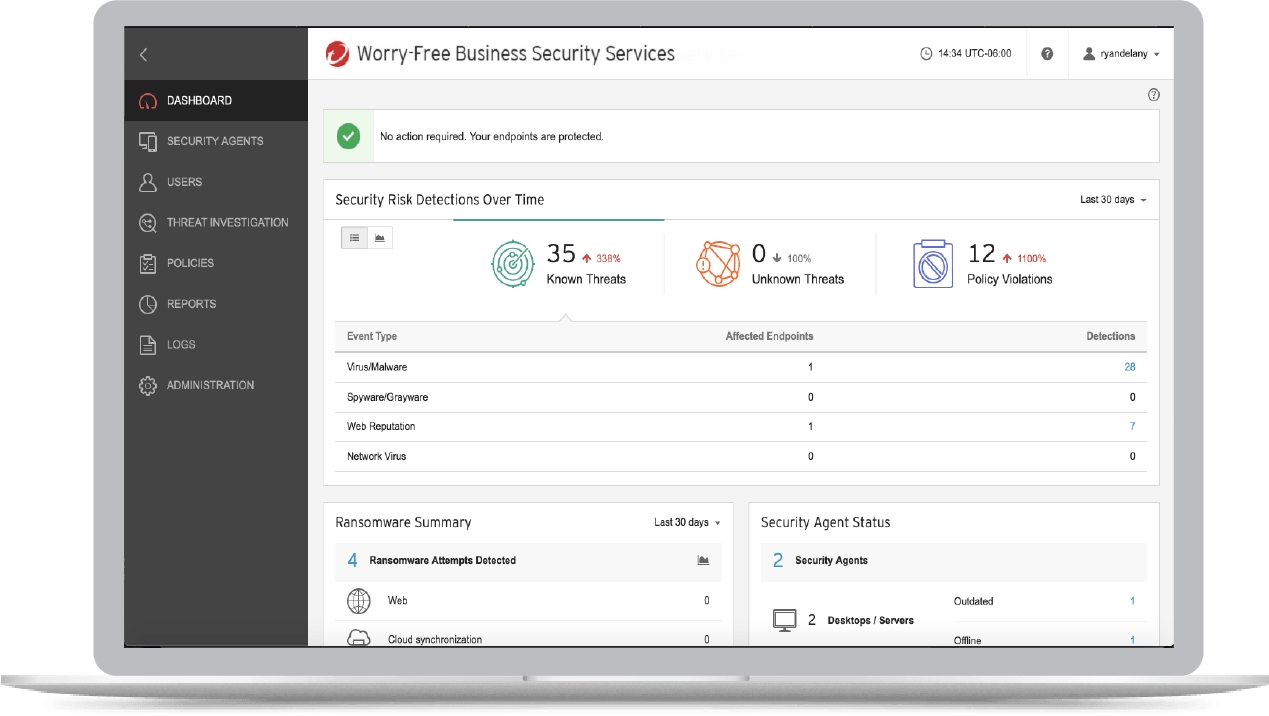 Worry-Free™ Services Advanced
Cloud-based, enterprise-grade protection for your business devices and email
Worry-Free Services gives you a complete endpoint protection platform with threat detection, response, and investigation via a single agent. Maximize user protection with a comprehensive set of security controls, such as application control, DLP, encryption, and behavior analysis. As an all-in-one solution, it eliminates multiple vendors and simplifies management.
Simple
Cloud-based security specifically designed to protect all your devices and email. Stop email threats in the cloud before they reach your network, and protect your devices from spear phishing and advanced targeted attacks.
A single, intuitive web console makes managing these powerful capabilities a breeze.
Complete
Get detection, response, and investigation capabilities within a single agent. By eliminating multiple vendors, protecting your staff, computers, and mobile devices from cyber threats is easy and affordable.
High-fidelity machine learning combined with other state-of-the-art detection techniques gives you the broadest protection against ransomware and advanced attacks.
Trusted
More than 500,000 companies worldwide rely on Trend Micro to do business safely.
Thanks to their up-to-the-second threat intelligence network, they protect more than 250M endpoints, warding off threats while you focus on your business.
Click here for Trend Micro Worry Free datasheet
What Worry Free can do for you
100% SaaS
Complete SaaS solution with no servers to install or maintain, ever.
Endpoint Security
Secures Windows (desktops and servers), Mac, iOS, and Android devices by infusing high-fidelity machine learning into a blend of threat protection techniques for the broadest protection against ransomware and advanced attacks.
Email Security
Secures Microsoft Exchange, Microsoft Office365, and any other email solution in real time.
Stops targeted attacks, spam, phishing, viruses, spyware, and inappropriate content from impacting your business.
Includes the latest Business Email Compromise and Credential Phishing capabilities.
Collaboration Security
Protects online collaboration tools from unknown threats and secures company data from intentional and accidental loss.
FIND OUT HOW TREND MICRO WILL BENEFIT YOUR BUSINESS
Contact AJP Solutions, today, to find out how we can improve your business' network solutions. AJP Solutions is dedicated to providing a quick response to any enquiries we receive.